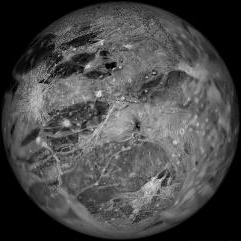 The Jupiter's Moon Ganymede




Pictures of Ganymede, a Satellite of Jupiter

Largest Moon in the Solar System
Courtesy Jet Propulsion Laboratory. Copyright (c) California Institute of Technology, Pasadena, CA. All rights reserved.


Ganymede: Facts About Jupiter's Largest Moon. A Ganimédesz Jupiter hold keringési ideje 7 földi nap a Jupitertől 1 millió km-es távolságú pályán. A felszíne alatt sós tengervíz taláható.